We at Minerva Rising firmly believe that every woman has a story to tell and wisdom to share.  We also know that it may not always be easy for you to tell your story well. That's why we started our Book Development Department to partner with you and provide guidance through the step-by-step process to turn your creative vision into a tangible result.
Work with one of our editors to develop your manuscript and you will receive:
A comprehensive conceptual reading of your full manuscript and personalized editorial collaboration.
Cover design and lay-out of manuscript that best suits the style and message of your material
An ISBN number and bar code for marketing and sale-ability
Proofreading and detailed copy-editing
Print and e-book publication
You have conceived your book and written it down.  Now let us help you usher it forth into the world. With Minerva Rising's Book Development, your dreams can grow wings and fly.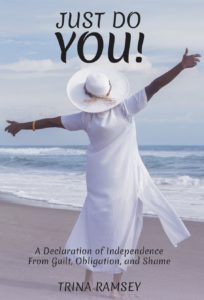 Just Do You is now available
I am so thrilled to launch my first book project and join the Minerva Rising family of authors. It was such a relief to have such expert advice and guidance throughout the process. Kim's coaching and editing really helped me to turn this project from essentially a "series of blogs" to a polished product that tells my story authentically and encourages others. I am so happy with the results! Her team at Minerva Rising has been amazing. I get so many compliments on the cover alone. It was a relief to have a team that was skilled in design, layout, and very thorough copy editing. As a newbie to the field, this was a dream. Thank you Kim, Alison and Stephanie - I so appreciate you all! Let's do it again!  (smiles)
— Inspirational life-coach and published author Trina Ramsey, Just Do You, (Minerva Rising Press, 2017)
$15.00
For more information and to talk to one of our editors about your idea, please contact us here.
Price varies depending on length and "game-readiness" of your manuscript.  We are happy to provide a quote upon request.
"Therefore, I would ask you to write all kinds of books, hesitating at no subject however trivial or however vast. By hook or by crook, I hope that you will possess yourselves of money enough to travel and to idle, to contemplate the future or the past of the world, to dream over books and loiter at street corners and let the line of thought dip deep into the stream."