2016 Poetry Chapbook Contest
Theme: Dare to Be, Dare to Write, Dare to Dare -- Wow us with your interpretation of what Dare to Be means to you. Fill our Submittable account with the beatings of your poetic hearts.
Specs:  14 - 36 pages
Prize:  $250 and 10 copies. Entry fee: $20. A portion of the reading fees and the proceeds from sales of chapbooks fund The Owl of Minerva Award.
Dates: September 1, 2016 through November 15, 2016
2016 Judge: Rachel Eliza Griffiths
Rachel Eliza Griffiths is a poet and photographer. She received the MFA in Creative Writing from Sarah Lawrence College. She is the recipient of fellowships including Yaddo, Provincetown Fine Arts Work Center, Cave Canem Foundation, Vermont Studio Center, The Millay Colony, and others. In 2011, Griffiths appeared in the first ever poetry issue in Oprah's O Magazine.
Her literary and visual work has been widely published in journals, magazines, anthologies, and periodicals including Callaloo, Poets & Writers, The New York Times, American Poetry Review, The Writer's Chronicle, Transition, American Poet, Mosaic, Indiana Review, Ecotone, Puerto Del Sol, Crab Orchard Review, RATTLE, Brilliant Corners, Kweli Journal, PMS: poem memoir story, The Drunken Boat, Salt Hill Journal, THRUSH, Folio, Hambone, Black Nature: Four Centuries of African American Nature Poetry, and many others. 
She is widely known for her literary portraits, fine art photography, and lyric videos. Griffiths recently completed her first extensive video project, P.O.P (Poets on Poetry), an intimate series of micro-interviews, which gathers nearly 100 contemporary poets in conversation, is featured online at the Academy of American Poets' website. Recently, Griffiths was selected by the Poetry Society of America to curate the Poetry Walk, featuring the poetry of Octavio Paz, for the New York Botanical Garden's exhibit, Frida Kahlo: Art Garden Life. 
Griffiths is the author of Miracle Arrhythmia (Willow Books 2010) and The Requited Distance (The Sheep Meadow Press 2011). Griffiths' third collection of poetry, Mule & Pear (New Issues Poetry & Prose 2011), was selected for the 2012 Inaugural Poetry Award by the Black Caucus of the American Library Association. Her most recent full-length poetry collection is Lighting the Shadow (Four Way Books), was published in 2015.
Currently, Griffiths teaches creative writing at Sarah Lawrence College and IAIA (Institute of American Indian Arts). She lives in Brooklyn, New York.  
Photo Credit: Marion Ettlinger
2015 Judge: Erin Elizabeth Smith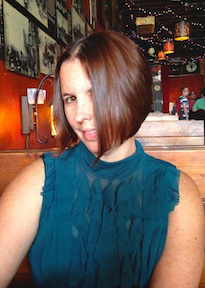 Erin Elizabeth Smith is the author of two full-length collections, The Naming of Strays (Gold Wake, 2011) and The Fear of Being Found, which will be re-released from Zoetic Press later this year. Her poems have appeared in numerous journals, including Mid-American, 32 Poems, Zone 3, Gargoyle, Tusculum Review, and Crab Orchard Review. She holds a PhD in Creative Writing from the University of Southern Mississippi and teaches in the English Department at the University of Tennessee. Over the past fifteen years, she has founded numerous literary organizations including one of the nation's oldest online literary magazines as well as the yearly Best of the Net Anthology. In 2013, she founded the non-profit Sundress Academy for the Arts in Knoxville, TN, where she serves as the Creative Director. She is also the Managing Editor of Sundress Publications and The Wardrobe.
Second Annual "Dare to Be" Poetry Chapbook Contest Winners
Minerva Rising is extremely excited and proud to announce this year's TWO chapbook contest winners. First place winner Maria Garcia Teutsch will receive $250 and 10 copies of her passionate chapbook The Revolution Will Have Its Sky AND first runner-up Kelly Nelson will receive $100 and 10 copies of her soul-baring collection Who Was I to Say I Was Alive. Congratulations to Maria and Kelly!
Thoughts on The Revolution Will Have Its Sky by Emily Shearer
The personal is political, and politics are everywhere: the courtroom, the throne room, the confessional (real or fake), the brothel, the gallows, and the street corners. Here in The Revolution Will Have Its Sky, Maria Garcia Teutsch presents a manifesto for an ageless cause. By turning her poetic tricks, she conflates image and casts aspersions--we see shadow and reflection, we see queen as whore and judge as prophet as well as thief.
As Heather McHugh asked, in her Judge's Citation for this year's winner, The revolution will have its sky--where else might its banner wave, aloft, esteemed--and still be widely legible? Teutsch sets this poetic stage against the clear backdrop of sky, complete with cast of characters--Madame, General, Executioner, Pimp. There is a bishop, but is he fake? There is a judge, but is he fair? "the judge wants/ screaming", and in the naked truth that the poet lays bare, isn't that what we all want? To punish others, to absolve ourselves of sins? We want to confess, to be given permission to keep sinning, to make our whores criminals and queens so that they pay the price for our transgressions and also lead us into the next Tiananmen, the next Tahrir.
In the titular poem, "The Revolution Will Have Its Sky" we hear the "eternal song" advancing like a battle march. "If you fasten a collection/ of decorations to a uniform/ you can give last orders to last men. The eternal song/ can prolong the funeral trick/ but for a moment."
The sexual, political, religious and historical, revolutionary every one, are layered here in bull-horned overtones and covert whispers. Weaving them together, somewhat violently in places, deftly and provocatively throughout, and flying its banner high, this chapbook raises a small yet mighty fist, crying "War, rebellion,/ showers of shrapnel,/ nothing stops them/ coming."
Tricks of the oldest profession on earth are not tricks played while lying down, they are the tricks of the poet, who in this case is the Executionee. When she "empties her pockets, / words fall --/ iambs,/ quatrains/ couplets./ Nothing to save her." Let this poetry, this poet be saved, let the language of her tricks and her tactics be more than a Revolution of One. Let them be an eternal song.